2nd Annual Vista BBQ 10/1/22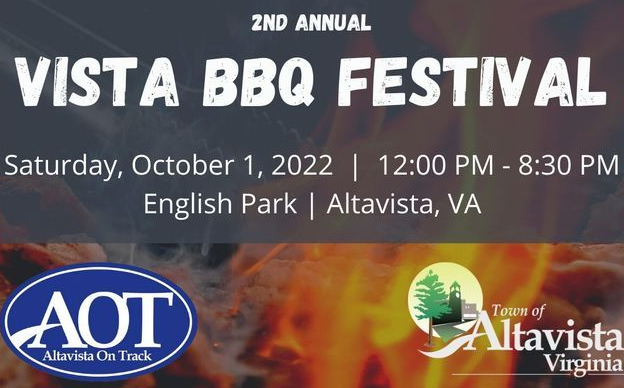 No products to show at this time.
2nd Annual Vista BBQ 10/1/22
Altavista, VA
206 Pittsylvania Avenue Altavista, VA 24517
Altavista On Track (AOT) is excited to announce that it will be hosting the second annual 2nd Annual Vista BBQ at English Park in Altavista on Saturday, October 1 from 12:00 PM to 8:30 PM. The event will feature live music, food/dessert trucks, beer/bourbon tastings, lawn games, children's entertainment, fire performers, and a fireworks show to end the evening.The BBQ Festival will also have a BBQ Competition that is sanctioned by the Kansas City Barbecue Society. This will be one of only four KCBS-sanctioned events that will take place in 2022 throughout the entire Commonwealth of Virginia. KCBS sanctions barbecue and grilling competitions across the US and promotes barbecue as America's cuisine. KCBS has an extensive certified barbecue judging program and is the largest society of barbecue enthusiasts in the world with over 20,000 members worldwide. The event will be a Master Series Sanctioned Contest that requires the teams to cook 4 types of meat (Chicken, Pork Ribs, Pork Butt, and Pork Brisket).The first event, held in October 2021, was attended by approximately 1,200 people from across the region. Proceeds from the event will be reinvested back into downtown Altavista to further AOT's mission of revitalizing the downtown district, fostering economic development and opportunity, and providing leadership to enhance community identity and pride.Tickets for the event will go on sale starting on May 16 at 8:00 AM. Online tickets sales end on Friday, September 30 at midnight.To view additional event information, to purchase tickets, to signup to compete in the BBQ competition, or to volunteer, please visit www.vistabbqfestival.com.
2nd Annual Vista BBQ 10/1/22
206 Pittsylvania Avenue, Altavista, VA, USA