NEW
Exterior Car Wash Package
Lynchburg Car Wash
2739 Wards Road
Lynchburg, VA
Retail: $16.00
Our Price: $8.00
This $16.00 DJ DollarSaver certificate is good for an exterior car wash package that includes an exterior wash, wheel cleaning, tire dressing and wipe down from Lynchburg Car Wash. Enjoy the multi colored light show while your vehicle is cleaned. Get in and out quickly...open 7 days a week. Cannot be combined with any other offers.
Lynchburg Car Wash
Lynchburg, VA
2739 Wards Road Lynchburg, VA 24501 -
Show Map
Keep your car looking good and protected from the winter weather at the Lynchburg Car Wash. This car wash is an all soft cloth wash located on Wards Road in Lynchburg. You'll find exterior packages from $8.00 to $16.00 and a choice of full service packages that will shine your vehicle from top to bottom. They also do detailing where you can get a hand wax and buffed job as well as interior cleaning.Enjoy the multi color light show as your car is washed! Their mission is to give exceptional service. They promise to give quick uniterrupted attention to your vehicle. Always making improvements to meet the needs of the customer is their goal!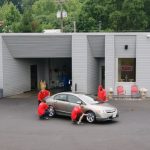 You May Also Like
Sold Out